Sustainable Picture Framing
Less Carbon, Less Expensive and Quicker turnaround!
Eco Framing's mission is reinventing how picture framing is designed and produced to reduce the carbon footprint in our industry. We promote mouldings that are forested, milled and made in America, are FSC, PEFC, and SFI certified and employ a supply chain process that minimizes waste in every detail. We have over 500 styles of in-stock moulding and hundreds of mat board styles to chose from, available at 20-75% discount from retail. It also enables us to provide rapid turnaround and by eliminating the need for shipping and materials waste your project is more sustainable. Digital media services such as scanning, image restoration, graphic design and printing, are integrated, providing you with a single source solution for even the most complex projects.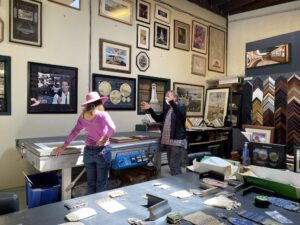 Services Tailored to Your Needs
We provide on-location design for custom framing, signage, display services, interior brand and graphic consulting with full installation services – large-scale and complex projects are our specialty.
Specialties:
• Content change-out systems, point of sales display
• Glass and magnetic marker boards, including custom printing
• mirrors, custom and economy, all colors of glass and finishing
• Fabric-wrapped pinboards,
• Casework
• HD monitor frames.
• Custom milling, CNC routing,
• Laser-cut metal and wood and finishing services.