The picture framing industry, like many, is realizing the importance of being environmentally responsible. Most manufacturers are already making changes to produce products with a lower "carbon footprint", managing waste carefully, controlling air pollution from the finishing process, and managing effluents that may otherwise enter the water system. Others, particularly those working overseas, may not practice responsible forestry, or pay special attention to pollution. Everything is driven by price. We even had a vender feign ignorance stating, "We don't have to worry about going green, we buy all our moulding overseas."
We believe it is time for change. In 2000 we re-dedicated our picture framing business towards reinventing our processes, deploying "green best practices" aiming to lead our industry, and focusing on suppliers that share our point of view.

We discovered this was not easy, and is not a destination but rather a journey. We constantly refine and improve our methods as well as encourage our clients and our supply chain to join us in this mission. Our focus is moulding "Made in the USA" from sustainably forested woods. These are our featured products, which we strive to make as affordable as possible to our customers than less eco-friendly alternatives. This also includes designing in optimal sizes to minimize waste and using every scrap possible for a productive purpose.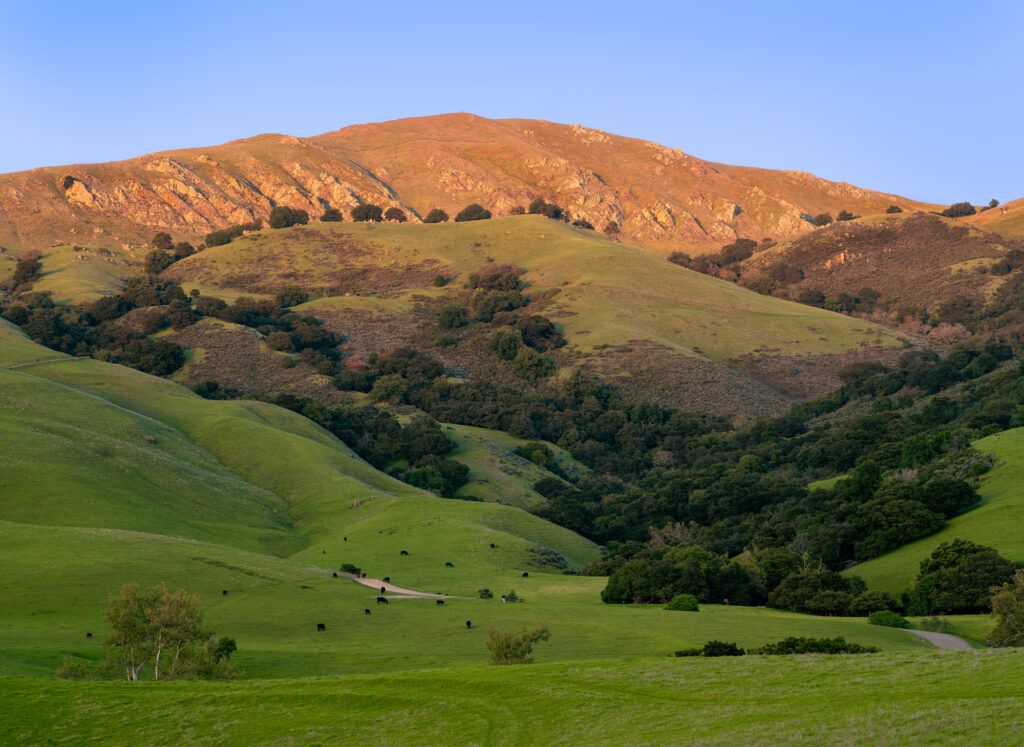 Sunset on Mission Peak, by Bennett Hall 2018
We take recycling as far as humanly possible, with cut-offs and scraps reused in creative ways, converted into products, or given away through local online sites such as Nextdoor and Craigslist. This has cut our waste by over 75% – far beyond government regulations.


We have the landed largest inventory of frame moulding and matt board in the region—over 50,000 feet in 450 styles. As we purchase our raw materials in bulk, which is more cost efficient, and reduces packaging and shipping, small special orders are virtually eliminated. This reduces cost to our clients, shortens turnaround and is less wasteful. Our clients learn how to "buy green" and therefore we help them save – both in the carbon footprint of the work and reducing the cost of framing.
In summary, we discovered that our strategy simultaneously cuts waste, reduces labor and paperwork costs, saves on packaging and shipping, reduces our cost of materials, enables faster turnaround and saves on our clients' budgets. We hope you like our approach and work with us as we continually refine our methods, striving to offer exceptional design, value and craftsmanship on your next project.
Are you ready to ready to join us, frame green & save?